One of the best ways to start preparing is to take a free TABE practice test, with realistic scored reports and full answer explanations to help you study more efficiently.
Practice tests can reduce your study time and increase your scores.
It is important to identify the topics that are your strengths and weaknesses. Practice tests can help you do that.
Smart Edition Academy has several options if you need more help.
Start with a free practice test or prepare with an online course.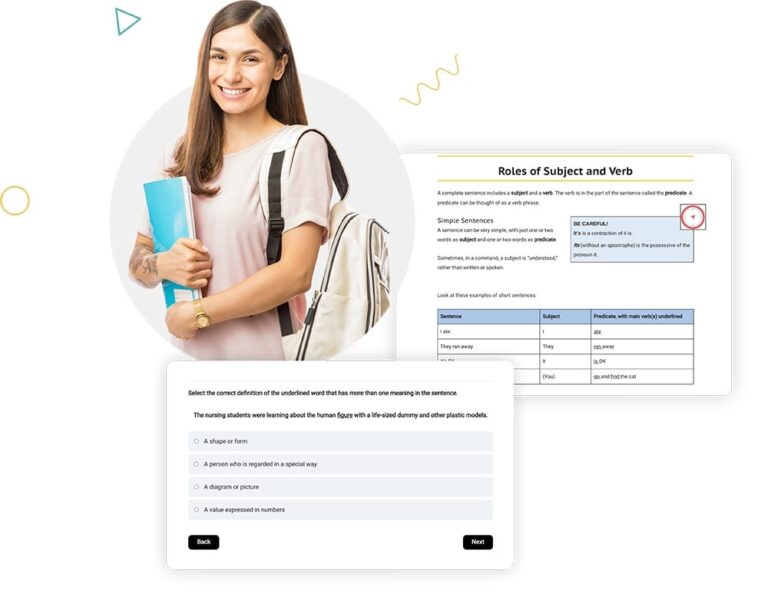 How To Study For the TABE Effectively
One of the best ways to start preparing is to take a free TABE practice test. This will give you a good idea of what the real test will be like and the types of questions you will encounter on the test. 
Once you complete a practice test you will receive a scored report that break down each question by the topic it relates to within that subject. This is extremely helpful because it helps you identify the topics that are your strengths and weaknesses. 
Once you know your weakest topics you can then focus your studying on those topics. When it comes time to study make sure you find good study resources like a TABE online course or a TABE test study guide book. Ideally you'll work with study resources that align with your learning style. 
Once you have studied your weakest topics you can go back and take another different  practice test and you should start to see your scores improve in those topics. You can continue this process until you start to see the practice test scores you need to be comfortable taking the real test. 
A good tip for planning your study sessions is to focus on 3-5 topics at a time. Instead of studying a ton of topics at once within a few hours, allot 1 hour per topic and study it and review it a few times a week. At the end of your study sessions, take 10-15 minutes to answer some practice test questions specifically on that topic.
One of the best test prep options is to take advantage of a good online TABE prep course which typically provides more materials and resources than other more traditional options like a study guide print book. 
Online courses for the TABE are a great option because they provide things like video lessons or online flashcards which are things you just can't get with a print book or other alternatives. Most TABE test takers take the test online so it's very beneficial to also take your practice tests online just like the real test. 
Smart Edition Academy offers the best online TABE prep course which includes 4 TABE practice tests offering over 500 practice questions. Each question is organized into practice test banks by topic for a more focused active practice. The online TABE prep course includes study materials for all learning styles with color graphics, 100+ narrated videos, flashcards, and 30+ study lessons accessible from any device, including mobile phones.
The Tests of Adult Basic Education, also known as the TABE, utilize subject area tests to identify the skill sets and practical knowledge base of adults. 
These tests identify strengths and potential areas of improvement for employers and educational programs in order to place workers and students within appropriate settings.
The TABE tests for basic and practical work skills within English and Math. Although there are a variety of tests offered by TABE administrators, all versions will include a standard set of material for these subject areas. 
Adults looking to take the TABE should be checking with the (potential) employer or school program that is requesting the test for which version is required. 
This will influence possible test formats, paper and pencil versus computer/software administration, and whether advanced level tests for other subject areas are necessary.
What is the TABE test used for?
The TABE test is a standardized test used to assess adults' academic skills and knowledge. Colleges, career programs, and government agencies often use the TABE test to determine appropriate placement into a program.
In most cases your TABE score won't prevent you from gaining acceptance into a program or organization using the test. The test helps determine your skill level and where you might get placed, for example at a beginner, intermediate, or advanced level. For schools it will determine which courses you might have to take or be exempt from.
How is the TABE test scored?
When it comes to the TABE, administrators do not have a pass or fail system, but rather implement a grade level associated with the scores. The TABE test is offered in five different levels, identified as Limited literacy (L), Easy (E), Medium (M), Difficult (D), and Advanced (A). 
These will correspond to the level of difficulty for the material that will appear on the test. Test takers should take a test diagnostic to know which of the five levels they should be taking.
It is important to understand that the test score received upon completion does not correspond to the other exam levels. A perfect score in the medium level does not necessarily mean that a student would have done well in the difficult level test. 
The earned score on a specific level exam is independent from other exam levels. As a result, the scores are evaluated in many ways by schools and employers to determine suitability.
Your TABE test score is broken down into a few different scores based on different parts of the test. The score you will receive comes in the form of a raw score and a scale score. You can find more information for TABE test scoring on the official TABE website.
Your raw score is simply the number of questions you answered correctly on each section of the test. For the TABE test your correct answers are referred to as "number correct" or NC, and this will factor into your next score type which is the scale score. 
Your scaled score is essentially your ranking compared to other TABE test takers who are at the same academic level.
Your scaled scores are intended to provide you with information on where you currently stand so you can plan any future academic courses appropriately, so for example you might start with lower level math courses in a program or you might start with a higher level position in an organization based on your great math scores.
The best way to study for the TABE is by using a free TABE practice test as well as using study materials that align with your learning style, and giving yourself plenty of time to study. 
The best steps to take to start studying for the TABE are: 
Take a practice test

Evaluate your strengths and weaknesses for each section 

Schedule short and specific study sessions on each individual topic a few times a week over a few months

Retake a practice test after a month of studying 
Fast track your way to a higher TABE score by taking lots of practice tests, especially reading practice tests. You'll want to practice working with the types of reading passages and questions you'll see on the real test so getting in as much practice before you take the real test is key to doing well on this section of the TABE.
Many TABE test takers focus on the math or language section of the test because they assume the reading section will be easier. 
However, this isn't always the case. The reading section can be just as tricky as the math and language sections, if not more so. This is why taking plenty of practice tests, especially reading practice tests, is essential.
By taking lots of practice tests, you'll become more comfortable with the TABE's format and questions. You'll also be able to identify your strengths and weaknesses, allowing you to focus your studies on the areas that need the most improvement.
Studying for the TABE test requires test takers to focus on the core concepts of Standard English, such as grammar, knowledge of language, and vocabulary acquisition. 
The best way to study for the TABE test is to start by taking a free TABE practice test. You can take a practice test in the Language section to gauge your strengths and weaknesses and use that information to guide what topics to study within this section and how much you should be studying each topic. While it may seem backward to test yourself first, then study, it's the most effective form of studying. By taking a free TABE language practice test first, you're able to see what you need to study to improve your scores.
One of the best ways to become more comfortable with math is to take a free TABE math practice test. This will allow you to get familiar with the types of questions that will be asked and help you improve your speed and accuracy. The more you practice, the better you will become at math, and when it comes to math it all comes down to practice, practice and more practice.
Additionally, by taking practice tests, you can study the questions that you are getting wrong to understand the material better.
Finally, using question banks specifically for TABE math practice can help you focus on areas that need improvement.
Can you use a calculator on the TABE test?
On the TABE test, you can use an approved calculator. When taking the TABE test online, an on-screen calculator will be provided during the test's math section. The TABE also allows test takers to use approved scientific calculators. You can see a full list of (anchor text: approved TABE calculators on the official TABE website.
You'll want to be fully prepared for all sections on the TABE, you can get started by learning more about the TABE Reading Section and start with a free practice test.