Free ASVAB Practice Tests Online
Free ASVAB practice tests can reduce your study time and increase your scores.
There are several subjects on the ASVAB, make sure you know your strengths and weaknesses.
Smart Edition Academy has several options if you need more help.
Start with a free practice test or prepare with an online course.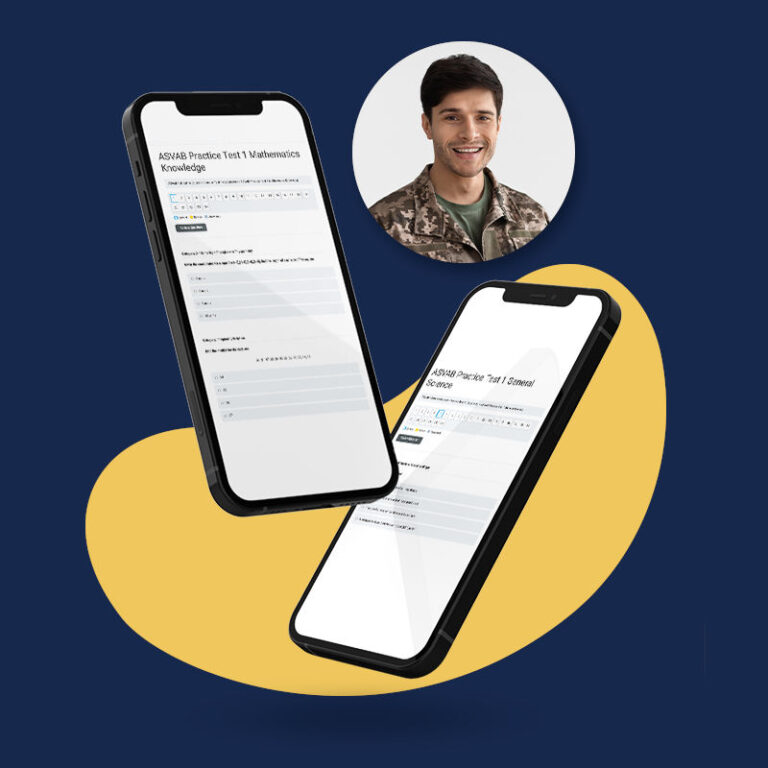 ASVAB stands for Armed Services Vocational Aptitude Battery and is a test used by the United States Military to determine qualification for enlistment in the armed forces. It's used by every branch of the military including the Marines, Air Force, Army, National Guard, and the Coast Guard. The required scores for each branch does vary and we'll do a deeper dive in those required scores in this article. You can read more about the ASVAB test here. 
The ASVAB is also used for determining what your job assignments in the military will be. Depending on what role you want to do, in most cases the higher your ASVAB score the better chances you have of getting the job assignment you really want.
In some cases a recruit may also need to take the Career Exploration Program which is a similar test but is a longer test. This test goes even more in depth into trying to determine what jobs within the military would be the best option for you. 
The ASVAB is a challenging test, but you can achieve a passing score with enough preparation. You can take free ASVAB practice tests with detailed explanations to help you better understand the questions. Good luck!
What is a passing score for the ASVAB test?
Your ASVAB score is broken out into three different score types. The first is the AFQT (Armed Forces Qualifying Test) which is used as a military entrance score. The second is your Standard Score which is your individual score on each of the 10 subtests. The third score is your composite score also known as your line score. Your composite score or line scores are your scores of the various subtests combined in different variations and pertains more to identifying the best job categories for you while you serve in the military. 
Your AFQT score comes from four subtests which are Word Knowledge (WK), Arithmetic Reasoning (AR), Paragraph Comprehension (PC), and Mathematics Knowledge (MK). You might be surprised to know that your AFQT score does not actually come from the number of questions you answered correctly or incorrectly but it is a percentile ranking comparing you to other candidates who have taken the test.
So for example, if your score was 80 then that would mean that you did better than 80% of the other candidates who also took the test. Your AFQT score is used to determine your eligibility to enlist and each branch of the military has a slightly varying required score in order to enlist with that branch. You can read more about ASVAB scoring at the official ASVAB website.
You will receive a separate score in each of the ASVAB subtests and these are known as your standard scores. For each subtest you can receive a score between 1-99 with the average scores for recruits landing between 30-70 so anything over 70 is an outstanding score. This score is not like your typical test scores where a 50 or 60 would be a failing score, in this case those would be average scores within the typical range most recruits score within.
When it comes to specific jobs in the military like mechanical, engineering, medical, or food and operations you will have different combinations of your subtest scores used. For example a job related to electronics uses the subtest scores from the Science, Math Knowledge, Arithmetic Reasoning, and Electronic Information subtests.
ASVAB Practice Test Subjects
The Arithmetic Reasoning section of the ASVAB is designed to measure your ability to solve arithmetic word problems. This section contains 30 questions, and you will have 39 minutes to complete it. The questions on the Arithmetic Reasoning section range from simple word problems to more complex problems that require multiple steps to solve.
Other topics you can expect to see on the ASVAB Arithmetic section include:
Fractions and decimals
Order of operations (PEMDAS)
Ratios, proportions, and rates of change
Percentages
Exponents, radicals, and square roots
Average, mean, median and mode
Mathematics Knowledge covers a range of topics including arithmetic, algebra, geometry, and data analysis. The questions on this section of the ASVAB are designed to test your knowledge of mathematical concepts and principles. In order to do well on this section of the ASVAB, you will need to have a strong foundation in math. 
You'll be expected to know the following topics among others:
Geometry including surface area and volume
Area and perimeter
Solving equations
Algebraic expressions using methods like multiplication (FOIL) and factoring
Quadratic equations
Coordinate geometry like linear equations, slope, and distances between two points
The General Science (GS) section of the ASVAB covers a lot of subjects and topics so it is definitely a section you want to make sure you are giving yourself enough time to study. You'll want to do as many free ASVAB practice tests as possible so make sure you are familiar with the types of questions you will encounter on this section of the ASVAB.
The main topics covered are:
Earth and space science
Biology
Human anatomy and physiology
Chemistry
Physics
There are a total of 11 questions on the Paragraph Comprehension section of the ASVAB. These questions are designed to test your ability to understand and interpret written information in the form of paragraphs. You will be presented with a passage, and then asked questions about what you have read. The passages can vary in length from one paragraph to several pages long.
One thing a lot of candidates have a hard time with is the timed aspect of this section because you only have 22 minutes to answer all of the questions. You'll want to really lean on doing timed ASVAB practice tests so that you can better understand if you are answering the questions fast enough so that you don't run out of time. The worst thing you can do is get caught up on a particular paragraph and take too long to answer any of the 11 questions.
We can break up this section of the test into three categories which are:
Key ideas and details
Craft and structure
Integration of knowledge and ideas
To further break down these categories you can expect to see these topics in each category:
Key ideas and details
Main ideas, topic sentences and supporting details
Summarizing text using text features
Understanding primary sources, making inferences and drawing conclusions
Craft and structure
Formal and informal language
Tone, mood, and transition words
The author's purpose and point of view
Integration of knowledge and ideas
Facts, opinions, and evaluating an argument
Evaluating and integrating data
Types of passages, text structures, genre and theme
The ASVAB Word Knowledge section is designed to measure your ability to understand and use words. You will have to demonstrate your understanding of words in context and your ability to determine the meaning of words based on their usage. The computerized version of this section will contain 16 questions in 8 minutes and the paper and pencil version will contain 35 questions in 11 minutes. All of the questions are multiple choice and will require you to select the best answer from a list of choices.
As mentioned before this section is a part of your AFQT score so it's really important to get the highest score possible.
We can break down this section into the following topics:
Root words, prefixes and suffixes
Context clues and multiple meaning words
Synonyms, antonyms and analogies
The ASVAB will test military applicants on electronics information which is defined as the physics, technology, and applications which affect the emission, flow and control of electrons. The Smart Edition Academy ASVAB online course lesson for electronics introduces the topics of various electrical components, electrical systems, and principles that shape the modern world in which we live.
These are a sample of topics within the ASVAB electronic information section that you will need to become more familiar with:
Currents
Circuits
Voltage
Resistance
Ohm's law
Electricity and magnetism
Capacitors
Diodes
The automotive information section of the ASVAB will include questions on the basic components of an automobile, such as the engine, power train, wheels, steering system, braking system, electric system, and body. The questions in this section are meant to test your knowledge of how these different parts work together to make an automobile run.
If you don't have a lot of experience with cars or any kind of automobiles then it will make a lot of sense for you to spend a little more time on this section. Also if you think you want to pursue any kind of role or job in the military related to automotive then you want to make sure you get a good score on this section.
The easiest way to learn more is to have good study resources like the Smart Edition Academy ASVAB online course which covers all the topics you need to know for this section. If you're not quite ready to jump into a course and just want to get your feet wet you can start with a free ASVAB practice test online with detailed explanations to get a better understanding of what you will encounter on this section of the test.
Shop information is a measure of a person's knowledge of common shop tools and fasteners and their uses. This section of the ASVAB covers the types of tools and fasteners used in mechanical, construction, and general applications.
Any shop will contain a variety of tools and equipment that assist in the building or repair of vehicles or machines. For this section you need to know not only the types of tools in a shop but also the procedures used to work on different types of vehicles or machines but you will also need to know about safety procedures.
When it comes to the specific tools, this list outlines the main categories of tools but you'll also need to know the various tools within each of these main categories:
Cutting and shaping tools
Drilling and boring tools
Filing and finishing tools
Gripping and clamping tools
Striking and hitting tools
Joining and fastening tools
Mechanical Comprehension​
Mechanical comprehension is a measure of a person's knowledge of mechanical and physical concepts. For this section of the ASVAB you'll need to know key concepts of basic mechanics and mechanical devices, including principles of mechanics, simple machines, and machine components.
Mechanics is a branch of physics that deals with the motion of material objects. Having an understanding of mechanics aids in the ability to describe and predict how an object will react when confronted by a force. To understand these concepts you'll see the following topics:
Principles of mechanics
Simple machines
Inclined planes
Levers
Pulley
Screws
Wedges
Wheels and axles
Machine components
Mechanical advantage
The Assembling Objects section of the ASVAB will test your understanding of individual spatial awareness. Spatial awareness is essentially how we see the world. Much of this test section will focus on recognizing and arranging patterns in your mind as well as with your hands, much like taking small blocks and assembling them into larger shapes, such as with Lego® bricks. This section is only used by the navy branch so if you don't plan to join the Navy then you won't need to worry about this section of the ASVAB. 
This section measures your ability to visualize and manipulate three-dimensional objects. The questions on this section will present you with a drawing of an object, and you will be asked to select the other object that could be assembled from the same pieces. You will have to use your spatial reasoning skills to correctly answer the questions on this section.
Is the ASVAB a hard test?
Yes, the ASVAB is generally considered by most test takers to be a hard test. It's not always that the subjects and topics are necessarily hard, it's more the fact that there are 10 subtests to do well on which is a lot of information and topics to master.
Most students are familiar with subjects like math, science, and English, but it's less common to be familiar with the topics in the auto, shop, and electric information subtests. In most cases you will need to put in a good amount of time to study at least one of the 10 subtests in order to do well on that section of the test.
With all that said it does vary from student to student. While some don't have to spend as much time preparing, most students find that they will need to put in the time to study each subsection of the test. It's always a good idea to study topics again even if you feel like you know them well because practicing sample test questions is key to doing well on the test.
Can you take the ASVAB online?
Yes, the ASVAB is available to be taken online but you can not take it from the comfort of your own home. Candidates will need to go to a Military Entrance Processing Station (MEPS) to take the test or at a Military Entrance Testing Station (METS) for which there are over 14,000 locations.
If you haven't taken an online exam before you can check this out for some really great tips for taking online exams.
What is the best practice test for the ASVAB?
The best practice test for the ASVAB is available from Smart Edition Academy. You'll find two options with the first being the free ASVAB practice test and the second being in the ASVAB full online course which offers 5 practice tests.
It's important to understand what makes a good practice test and how it will help you do better on your test.
First you want to make sure you are taking a timed ASVAB practice test so you can get a feel for what it's like taking the test with the added pressure of being timed. It's likely that you won't be able to finish all 10 subtests in the time allotted which is totally okay. The point is to identify the subtests you need to improve your timing on so that you can work towards practicing those questions to get faster.
Second, you want a practice test that offers detailed answer explanations for every question. You can actually learn from the practice test questions when they are helping you really understand why you got the question right or wrong. Don't plan to take your practice test, get your score, and just move on because going through the practice test results is where you can really better understand those questions and be able to answer future questions that are similar correctly on the real exam.
Third, the most important part of any practice test is the score report that you will receive when you complete the test. The Smart Edition Academy free ASVAB practice test contains a score report that breaks down each question you answered by the topic that it relates to within that subtest. This helps you identify exactly what your strengths and weaknesses are for each topic, with that information you can know where you should focus your study time. Becoming more efficient with your study time to focus on your weak areas is hands down the best thing you can do to help bring your score up the fastest.
Ideally you will have access to more than one practice test so that you can continue to take them as you continue to study. Your first practice test should be a diagnostic test to give you a benchmark or baseline score of where you stand on that day. From there as you study your weakest areas and continue to learn, on your next practice test you should start to see your scores improve.
What are the most important subjects on the ASVAB?
The most important subjects on the ASVAB are related to your AFQT score which are Word Knowledge (WK), Arithmetic Reasoning (AR), Paragraph Comprehension (PC), and Mathematics Knowledge (MK) . These subjects are the most important because if you don't do well on them you won't be eligible to join the military.
After the AFQT, which subject is most important will depend on each student and which military job they would like to pursue. So for example you might need to make sure you do well in the shop or auto information subjects if you want to have a job as a mechanic.
To break it down, arithmetic reasoning and mathematics knowledge are key subjects. These sections test your ability to solve mathematical problems and to understand concepts such as fractions and decimals. You will also need to know basic geometry, including properties of shapes and how to measure angles. Additionally, you will need to be familiar with basic algebra, including solving equations and graphing linear equations.
Next, you will need to understand word knowledge. This section tests your ability to understand the meaning of words and how to use them in a sentence. You will also need to be able to identify synonyms and antonyms of words, as well as their parts of speech. Additionally, you will need to be familiar with basic vocabulary, including prefixes, suffixes, and root words.
Finally, you will need to be able to comprehend paragraphs. This section tests your ability to read and understand written information. You will need to be able to identify the main idea of a paragraph, as well as the details that support it. Additionally, you will need to be familiar with transition words and phrases that signal relationships between ideas.