Best Methods To Study For The GED® at Home
Studying for the GED® at home takes a lot of discipline and focus.
In this article we'll show you how to prepare for the GED so that you can meet all of the GED requirements.
We'll cover tips to prepare for the GED, what to study for the GED, and point you in the right direction for the best study resources including the best GED classes online and a free GED practice test.
How Can I Study for the GED At Home?
The best way to study for the GED is to incorporate it into daily parts of your life in addition to creating an effective study plan for a few months.
To incorporate studying for the GED into your daily life, you can:
Follow accounts on social media that focus on the GED. We call this studying where you scroll.
Listen to educational GED study material while you're commuting to work or working out. Listening to just 10-20 minutes of educational content can make a huge impact in your studying.
Sign up for helpful GED emails that will send you tips, practice questions, and more regularly in your inbox.
For creating a study schedule that will align with your GED journey, be sure to:
Take a practice test first.
Determine your strengths and weaknesses using the score report from your practice test.
Use study materials that align with your learning style to study your weaknesses.
Schedule regular short and specific study sessions into your week.
For example, don't just study "math" for 7 hours on one random day. Instead, study adding and subtracting fractions by a fraction for an hour twice a week for 3 weeks as well as 2-3 other math topics you are showing weaknesses in.
Retake a practice test and evaluate where you have improved at least once a month.
The GED like any other high school equivalency exam can be difficult, however, it is not impossible to pass. Every day students are earning their GED by studying effectively and making a plan to pass each of the subtests.
What Should I Focus On for the GED?
The most important thing to focus on for the GED is creating a plan for which subtests you will study and take first.
We recommend the first test section you take is the one you feel is your best subject. By doing this you can get a sense of accomplishment right away and make your journey to passing all sections of the test easier by knocking out the sections you have the best shot at passing up front.
Next, focus on what topics are and are not on that subtest of the GED. Spend time deciding the best GED test prep for your learning style.
Next, you want to familiarize yourself with the type of questions that will be on the exam such as drag and drop, fill in the blank, and extended response. The best way to familiarize yourself with the types of questions you'll see is by taking a free GED practice test.
Finally, you want to begin practicing essays for the required essay portion of the language arts subtest.
The GED is a timed test. Each subtest has its own individual time allotments, number of questions, and format.
For the social studies test, test takers have 70 minutes.
For the math test, test takers have 115 minutes.
For the science test, test takers have 90 minutes.
For the language arts test, test takers have 150 minutes
How Should I Practice for the GED?
Test takers should practice for the GED throughout their studying journey.
A practice test should be the first thing a test taker takes before they study to determine their strengths and weaknesses within each subject. As you plan individual study sessions on each topic, it's important to incorporate active practice (otherwise known as active recall) at the end of your study sessions. You can do this by utilizing a GED practice question bank with hundreds of questions.
For example, if you're studying adding fractions by a fraction for the math section,  after reviewing the lesson in the GED Online Course, watching the educational tutorial videos, you can go over to the GED practice question bank and answer 5-10 questions just about adding and subtracting fractions from a fraction to see how you're doing. After answering those questions, you can then study the answer explanations. 
Continue to take GED practice tests every few weeks to see how you're improving in the subject you're studying to take.
The GED is scored on a scale of 100-200 for each section of the test. To earn a GED, you must score at least 145 on each of the four tests—reading, writing, math, and science. If you don't pass a test the first time, you can retake the subtest.
In addition to a passing score of 145 or better there is also a GED College Ready score which indicates that a student is prepared to take college level courses. To attain this you need to have a score between 165 – 175 or better.
A third score type is what's called the GED College Ready and Credit which is reserved for scores over 175 in each section. If you reach this score requirement you may be eligible to earn partial college credits for showing that you know core subjects well enough that you don't need to take a college course for it.
Consider taking free GED practice tests with detailed explanations to help you better understand the questions. You may think of a traditional GED study guide but you can practice as much as you like online and see how much you improve with practice!
After months of studying, it's only natural to want the test day to go smoothly.
If you are taking the GED at a testing facility, here is the best way to prepare for the GED test day.
– Eliminate distractions. Avoid social media and email before your test.
– Get a good night's sleep and take good care of yourself for a few days prior.
– Avoid cramming the day or night before.
– Arrive early so you won't be rushing upon arrival.
In the testing facility, you should only bring pencils, and an approved government ID.
If you are taking the GED remotely online, here is the best way to prepare for test day.
Before you can schedule to take your GED online, you will need to pass the GED Ready Test.
After passing the GED Ready test, it will be important to keep an eye out in your email for further instructions from GED. There is a "dry run" you can perform prior to your testing day to make sure you meet all system requirements.
Other things to do on your remote testing day include:
– Only have approved materials on your desk (government ID and pencil)
– Clear your desk and space to take the test
– Make sure you have a private room
– Eliminate distractions and interruptions
– Charge your computer or laptop
– Scratch paper, food, beverages, calculators, headphones, and personal items are not allowed during the remote online GED.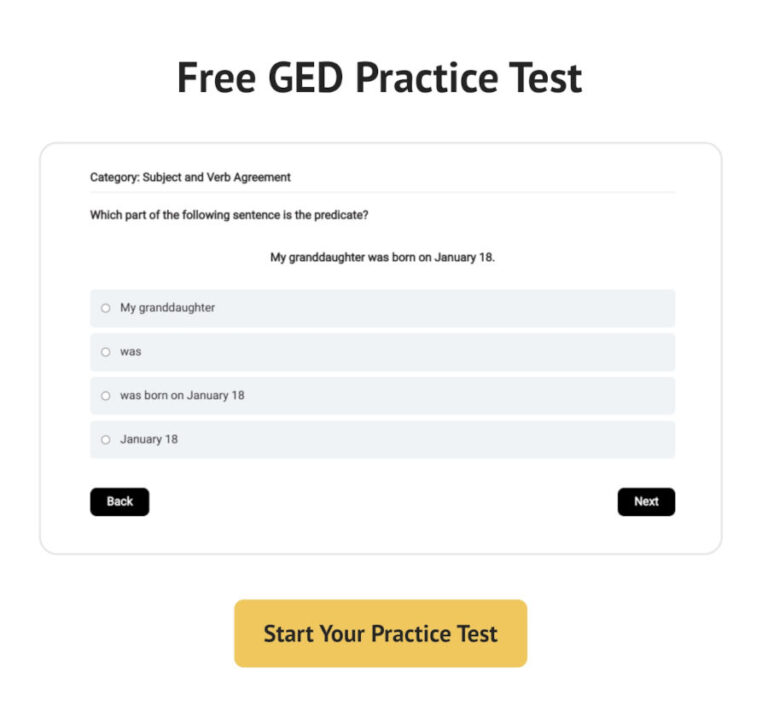 What To Study For The Test
Test takers will encounter varying types of math concepts on the GED, starting with basic math: addition, subtraction, multiplication, and division.
As part of the GED, test takers will be expected to correctly answer questions relating to decimals, fractions, graphs, functions, roots, exponents, and word problems. Algebra is expected to be used to determine a variable's value or set up a proper equation as a result of a word problem.
Geometry is also a core focus of the math GED test. Test takers should be familiar with the formulas and how to solve for radius, diameter, circumference, volume, and area of various shapes such as circles, triangles, and rectangles.
Lastly, functions and graphs are in the GED math section. Test takers should study and practice evaluating how data is presented in tables, charts, and bar graphs. In addition, test takers should understand and know how to find median, mode, range, and mean.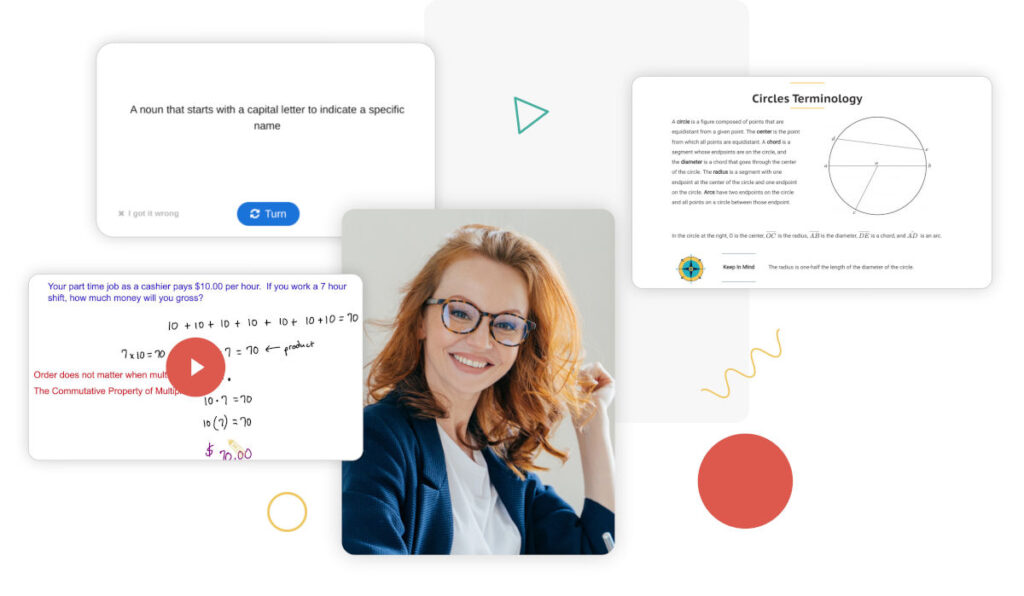 The Language Arts section of the GED includes multiple choice questions, drag and drop, and fill in the blank questions as well as a written essay. Test takers are given 150 minutes to complete all sections of the test. The test topics include reading for meaning, identifying and creating arguments, as well as grammar and language.
For each topic of the test, you will need to study:
Reading for Meaning:
Main ideas, topic sentences, & supporting details
Context clues and multiple meaning words
Formal and informal language
Tone, mood, and theme
Author's purpose and point of view
Identifying and Creating Arguments:
Facts, opinions, and evaluating an argument
Integrating data
Types of passages
Text structures
The writing process
Grammar and Language:
Spelling
Capitalization
Punctuation
Parts of Speech
Types of sentences
Clauses
Modifiers
Root words, prefixes, suffixes
With a test section containing this much to review and study, it's best to start studying for this section by taking a free GED practice test. This will give you an idea of how the questions are framed and this gives you a baseline expectation for the test.
The GED social studies test covers a wide range of topics. Here are some of the main areas that you can expect to see on the test:
Civics and government
Economics
Geography
History
Social studies skills and research methods
Civics and government questions will make up about 25% of the total test. You can expect to see questions about how governments work, citizen rights and responsibilities, and other topics related to civics.
Economics questions will make up another 25% of the social studies test. These questions will cover topics like supply and demand, different economic systems, and labor markets.
The remaining 50% of social studies questions will be split between geography and history. The geography questions will focus on things like physical and human geography, while the history questions will test your knowledge of historical events, people, and trends.
Social studies skills and research method questions make up a small portion of the test, but they are important nonetheless. These questions will assess your ability to analyze data and sources, as well as your ability to communicate your findings.
The GED science test measures a test taker's ability to understand and apply basic science concepts. The test is divided into two sections: the multiple choice section and the essay section.
In the multiple choice section, test takers will answer questions about life science, physical science, and earth and space science.
In the short answer essay section, test takers will be asked to write two short written responses about a scientific topic.
Test takers should expect to answer questions about scientific theories, laws, and principles. They will also be asked to interpret data from experiments and research studies.
To succeed in the GED science section, test takers need to have a strong understanding of basic science concepts. They should also be able to apply these concepts to real-world situations.
Important concepts to study would be:
Temperature and the metric system
Scientific method
Scientific notations
The foundations of biology
Genetics and DNA
Cell Types, cell structures, cell function
Geology
Astronomy
States and properties of matter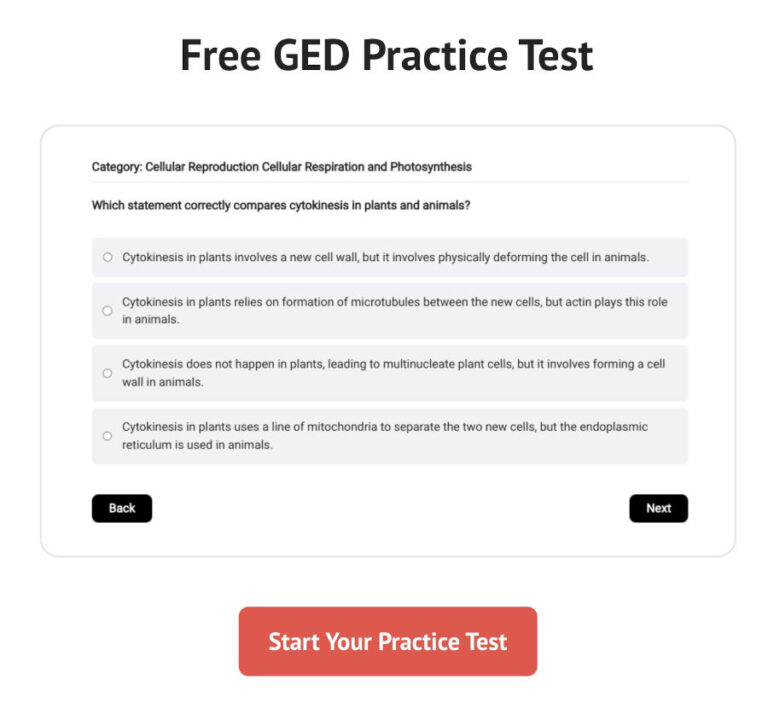 How Long Does It Take to Study for the GED?
Studying for the GED can take as little as a few months and can take as long as a year. This varies based on a few factors such as: 
If you're studying for all subtests at once or just one at a time.

How familiar are you with the content on the test.

How well you're doing on GED practice tests – the lower your initial scores are the more time you will need to study your weak areas.
When to Start Studying for the GED?
If you want to take the GED, you should start studying as soon as possible. The sooner you start, the more time you will have to study and prepare. Most people spend at least a few months studying before taking the GED. 
First, decide if you want to take all four subtests at once or if you want to focus on one particular area first. We typically recommend focusing on one section at a time and to start with your best subject first.
Next, take a practice test in the subject area you want to focus on. This will help you determine how much time you need to study. Knowing your strengths and weaknesses is important before creating a study plan and determining how long you might need to study for.
Creating a study schedule that fits into your lifestyle is essential. For example, when planning, you want to consider your work schedule and other responsibilities. If you only have 1-2 days per week to study and review materials, it may take you a few months more to study than someone who can study a few hours every day.
Disclaimer: GED® is a registered trademark of the American Council on Education (ACE) and administered exclusively by GED Testing Service LLC under license. Smart Edition Academy is not endorsed or approved by ACE or GED Testing Service.