Take free GED® practice tests online. Practice with actual GED questions and answers online to optimize your study time.
Smart Edition Academy has several options if you need more help.
Start with a free GED practice test or prepare with an online course.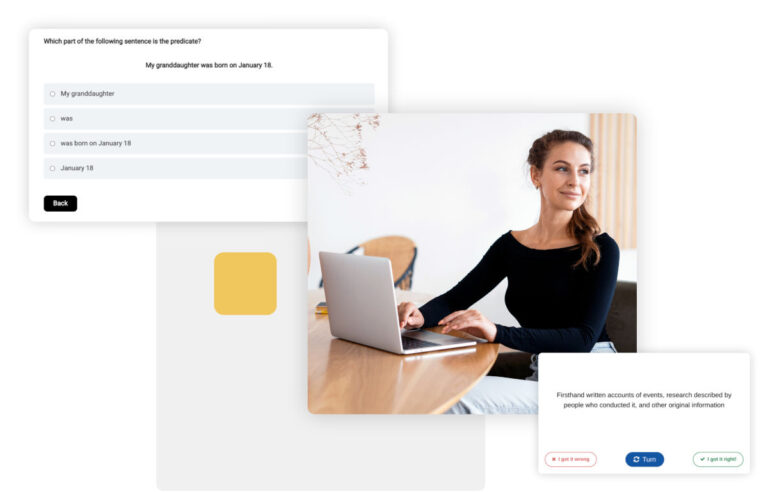 The GED is split into four sections:
Mathematical reasoning
Science
Reasoning through language arts
Social studies
You can take each subject test separately which is helpful because taking one long test at one time can be very challenging. You can read more about the GED subjects on the official GED website.
There are a few different types of resources that can be helpful when studying for the GED. No matter how you study for the GED, it is important to find resources that work best for you. There are a variety of resources available, so take some time to explore what is out there.
One type of resource is an online course, such as the one offered by Smart Edition Academy.
Another type of resource is a practice test pack, which can help you get familiar with the format of the GED test and learn how to pace yourself.
Finally, study books with online resources can provide extra practice and information on specific subject areas.
Whichever type of resource you choose, make sure to use it regularly so that you are well-prepared for the GED test.
There's no better way to prepare for the test than taking a free GED practice test and generally the more practice tests you can take before the real test the better. Among the benefits of a free GED practice test is that you can become familiar with the test, the types of questions and the timing aspect of the test.
Each section of the test has a different time limit and practicing with this is super important, you don't want to run out of time and leave questions unanswered.
By taking a timed free GED practice test you can start to get an idea of what sections you are having difficulty with for timing. Once you know those sections you can then work towards getting faster at those types of questions so you can finish that test section in the allotted time frame.
Another really helpful thing about taking free GED practice tests is that you will be able to get a better understanding of what subjects and the topics within those subjects that are your strengths and weaknesses.
The Smart Edition Academy GED practice test provides a score report when you finish the test, the score report breaks down each question on the test by the topic that it relates to within that subject.
From there you can focus your studying on the topics that you did not do as well on. As you continue to study the topics you can go back and take another practice test and you should start to see those weak topics improve.
GED Practice Test for Science
Our free GED science practice test presents all of the subject matter in a realistic format to help you prepare for the GED. These questions will be on the foundations of biology, chemistry, life sciences, earth and space science, temperatures, metric system, and scientific reasoning.
Taking a free GED practice test will allow you to determine what topics within the science section such as metric system conversions or cell types and their function and structure that you need to spend more time studying. This allows you to narrow your focus and study the areas that you're likely to boost your scores the fastest to help you pass the GED.
GED Practice Test for Social Studies
The Smart Edition free GED social science practice test will help you prepare for the real thing. The test covers a range of topics, including history, civics, and economics. You'll need to know how to interpret documents, understand key concepts, and use critical thinking skills to answer questions. 
The questions on this free GED social studies practice test are similar to what you 'll see on the actual GED test, so it's a great way to get some experience with the format and question types.
GED Practice Test for Language Arts
This section of the exam covers reading and writing, and you'll need to demonstrate your skills in both areas.
The reading portion of the test will assess your ability to understand and analyze texts. You'll need to be able to identify main ideas, make inferences, and draw conclusions. The writing portion will focus on your ability to express yourself clearly and effectively in written form. You'll be asked to write an essay as well as to complete some multiple-choice questions.
To get a better idea of what the language arts test will be like, take a look at this free GED language arts practice test. It covers both reading and writing, and it will give you a good sense of what to expect on the real exam. You can find a short GED language arts practice test here or take a full free timed practice with GED diagnostic results here.
GED Practice Test for Math
There are a few reasons why you should take a free GED mathematics practice test. First, it will help you identify which areas you need to focus on. Second, it will give you an idea of what to expect on the actual test. Finally, taking a practice test can help reduce your anxiety on test day. So if you're feeling unprepared for the math portion of the GED, consider taking a practice test to help get yourself ready.
Taking practice tests as you study for the GED mathematics section will increase your chances of improving your score and passing since you will be able to gauge how you would do on the GED mathematics subtest and gauge where you need to continue studying.
Also, studying by using GED question banks from an online GED course would be a good way to actively practice what you're studying from the math section. 
GED essay topics will usually ask you to develop an argument in writing that chooses a stance on a topic after being presented with a passage supporting both sides of an issue.
You need to be able to write your GED essay quickly and efficiently, so that you can finish the whole test within the 45 minutes of allotted time.
Here are some tips on how to write a GED essay:
– Brainstorm your ideas before you start writing. Jot down key points that you want to make, and supporting evidence for each point. This will help you organize your thoughts and structure your essay logically.
– Write a clear thesis statement in your introductory paragraph. This should state what position you are taking on the issue, and what specific points you will be discussing in your essay.
– Each paragraph should be 5-7 sentences long.
– Each paragraph should include at least two transitions.
Here are some common questions about preparing for and taking the GED.
Can You Get a GED online?
The GED can be earned either at a testing facility or via remote online testing. A test taker must first qualify to take the GED online from home. Test takers can take the GED Ready Practice Test to see if they meet the criteria for taking the GED online. The GED online version is still in its initial phase of being rolled out, so be sure to also check with your state to confirm eligibility. 
What Do You Have to Score on the GED Test to Pass?
To pass the GED and earn a high school equivalency, you must score a minimum of 145 on each subtest in order to pass the GED. The test score range is 100-200. If you did not pass one or more sections, you will need to retake those sections in order to receive your diploma. Scores over 165 will generally indicate a student is prepared for college.
How is the GED Test Scored?
There are three sorts of GED passing scores; GED pass/high school equivalency, GED College Ready, and GED College Ready + Credits.
The GED pass equates to a high school equivalency diploma. This requires test takers to score a minimum of 145 on each section of the test.
The next tier is called the GED College Ready. This requires a score range of 165-175 and is indicative of being prepared for entering college.
The last tier of GED scores requires a minimum of 175 and is called the GED College Ready and credit. This means that you may earn partial college credits because you have displayed mastery in core subjects. This will vary from school to school and state to state.
How Do I Prepare for the GED Test?
There are a few things you can do to prepare for the GED test. First, familiarize yourself with the format of the test. The GED is a computer-based test, so you'll need to be comfortable using a keyboard and mouse. You'll also need to know how to navigate through the testing software.
Next, review the content areas that will be covered on the test. The GED covers four main content areas: Language Arts (Reading and Writing), Math, Science, and Social Studies. Familiarize yourself with the types of questions that will be asked in each content area.
The best way to gain confidence as you prepare for the GED is to take a lot of GED practice tests, create effective study plans, and just stick to studying and testing yourself! Avoid overwhelming yourself in the beginning. Try to take it one step at a time and always be specific about what you're doing.
The best steps to follow to start preparing for the GED are to take a free GED practice test, note your weaknesses within each subject, and start studying your weak areas within each section using study materials that align with your study style.
Complete 20-30 study sessions that are about 1-2 hours long each maximum and then retake a practice test. Keep doing this and you should start to see your scores improve!
Wondering which subjects to study, and when you should get started? Check out this article on the best ways to study for the GED.

Disclaimer: GED® is a registered trademark of the American Council on Education (ACE) and administered exclusively by GED Testing Service LLC under license. Smart Edition Academy is not endorsed or approved by ACE or GED Testing Service.